Beach / River Sweep
BSRS is South Carolina's largest one-day volunteer cleanup of its kind. It is organized by the S.C. Sea Grant Consortium and the S.C. Department of Natural Resources. During this event, thousands of South Carolinians volunteer to clear our beaches, rivers, lakes, marshes, and swamps of aquatic debris.
This event began in 1988 and takes place every third Saturday in September. It is held in conjunction with the International Coastal Cleanup, coordinated by the Ocean Conservancy.
Cleanup Sites in Berkeley County
Fred Day Landing
Spires Landing
Santee River – Wilsons Landing
Santee River – Hwy 52
Huger Landing
Ralph Hamer – Quimby Landing
The Hatchery
Amos Lee Gourdine Landing
Arrowhead Landing
Durham Creek Landing
Rembert C. Dennis Landing
William Dennis Landing
Foster Creek
West Dike
Goose Creek Reservoir
Old Santee Canal Park
Get Involved
Our amazing volunteers make this event possible. If you would like to join our team and help keep Berkeley County's waterways clean please contact
Sarah McCarthy-Smith
BCWS Recycling Coordinator
(843) 719-2383
sarah.smith@berkeleycountysc.gov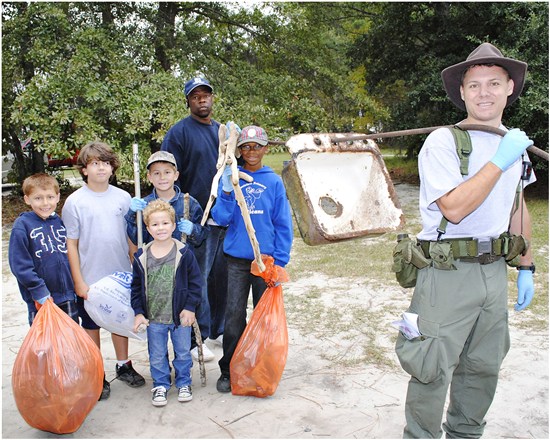 Sponsorship Opportunities
Thanks to the help of our local sponsors, we have been able to increase our resources for Beach Sweep River Sweep each year. Contributions, whether in-kind or monetary are vital to our program and may be tax-deductible! If you would like to become a sponsor please contact (843) 719-2383
Current Sponsors
Albany International
Berkeley Water & Soil Conservation
Santee Cooper
St. Stephen IGA
Widner's Septic Tank Service
Thank You for Your Support!